Salami Calabrese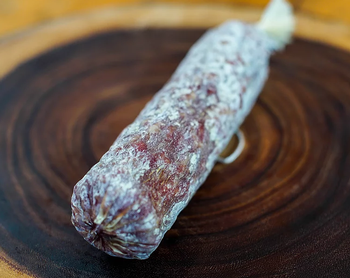 Prepared according to the artisanal traditional Calabrese (Southern Italy) recipe, in the natural casing using the highest quality ingredients. Seasoned with hot peppers, sea salt, black pepper, and garlic, and aged for 75 days to yield the characteristic spicy, smooth and subtle flavor.
315-365g
Gluten-Free
Handcrafted in Ontario, Salumeria il Tagliere.
Available only for "Purple Glove" delivery areas: Niagara, Hamilton, GTA, Guelph, Stratford, Kitchener/Waterloo, and London.