Pluck - Southbrook Berry Loose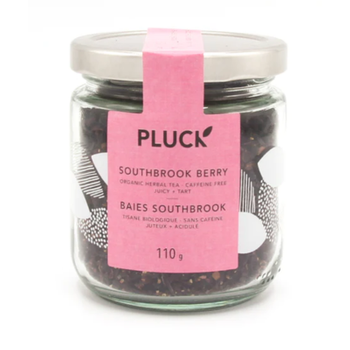 Traditional Preparation: Measure 1 tsp of loose tea and add to a tea filter or strainer (or use one tea bag). Steep in 8-12 oz freshly boiled water for 5 minutes. Delicious on its own or lightly sweetened. Enjoy!
Iced Southbrook Berry Tea Recipe: Steep 2 tsp (or two tea bags) of this tea in 6oz freshly boiled water for 5 minutes. At this point you can chill the tea in the freezer for 10 minutes (remove tea leaves or tea bags first) or pour into a glass over ice slowly. (The ice will partially dissolve) Add chilled milk of your choice and enjoy! Delicious with a splash of tonic water.
100% natural ingredients, blended and packed in Canada: Elderberries*, Currants*, Dried Grape Skins*, Hibiscus Petals*, Natural Flavour. *Organic